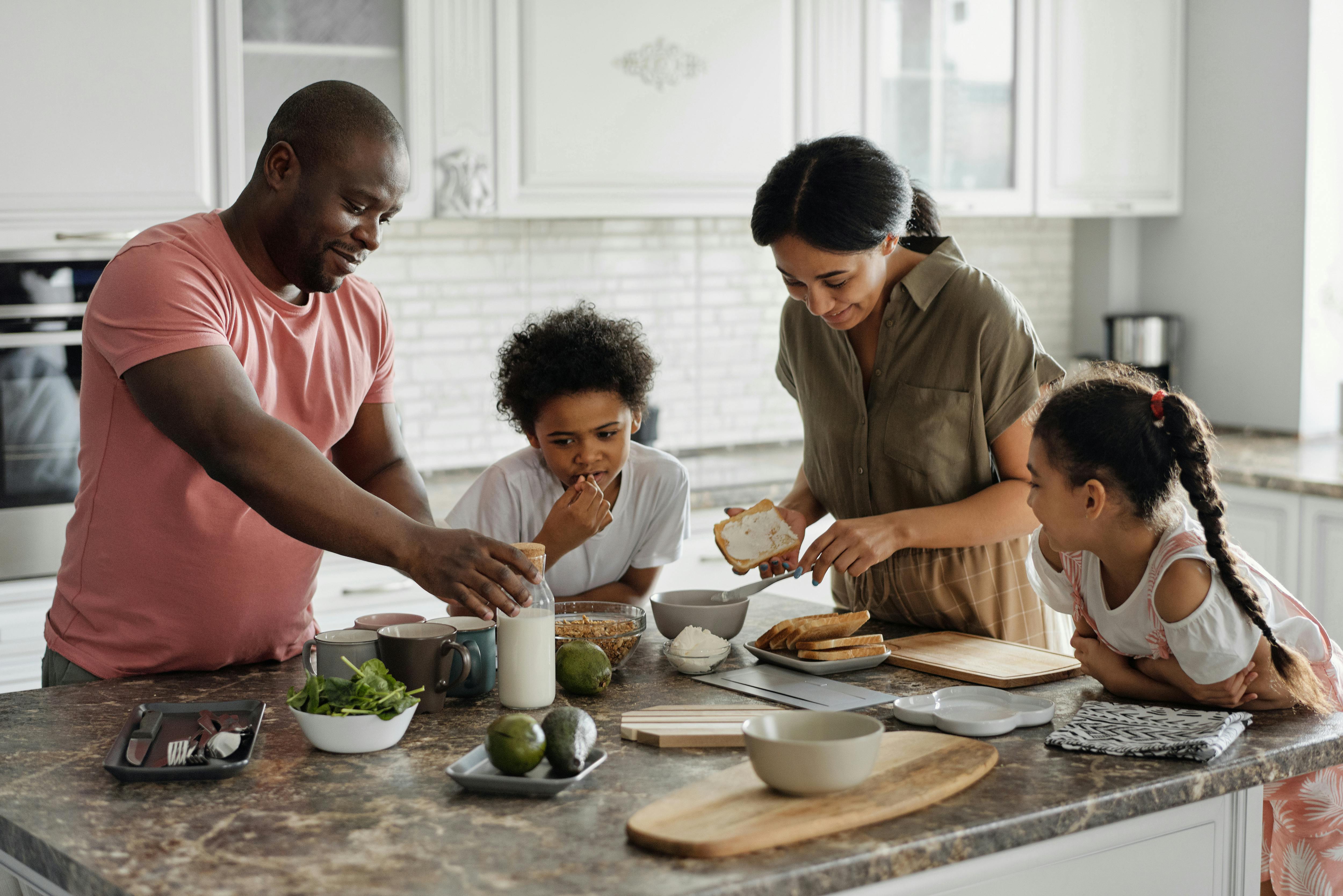 How will kids learn to eat healthy? They will learn by copying the important people in their lives. A study on imitation and mirroring processes explains that children often use observational learning to attain skills, ideas, and beliefs. This is why as their parents, it is your job to be a good role model and make healthy eating a habit. Teaching them this from an early age will help strengthen their immunity, lower the risk of developing serious or chronic illnesses, and even maintain their mental and psychological well-being.
Here are a few ways you can achieve this goal:
Talk About the WHY
Your kids need to understand the why behind the what; it can help them buy into the importance of eating healthy. Instead of having them just follow your example, talk with them about the importance of a good diet and outlook on food. As one of my past articles on healthy habits for parents says, feeling empowered can make people feel strong and healthier.
Explain what nutrients are and how they help your body stay in good condition. Show them which foods should be eaten and why. Give them information that helps them take ownership of their eating habits and gives them assurance that they are doing the right thing.
Make it Daily
Consistency is key when it comes to forming healthy habits. Research by accredited weight loss programs shows that committing to a nutritious diet doesn't mean depriving yourself of your favorite foods. Instead, it means you develop a healthy daily relationship with food. Deprivation is not the answer. Good healthy eating habits are.
Carve out time to make nutritious meals even though you are busy. You can even meal prep if it's easier. Just be sure to research the health benefits of certain foods and make it a point to your kids that even if you indulge every so often, they can make sure that they eat healthily more consistently. Doing so will help them build the habit of eating healthy meals, as well as teach them the skill of self-control that they can carry into adulthood.
Get Them Involved in Meal Planning
Kids often feel like they are not in control – especially when it comes to what they eat at home. This can make them feel like they don't have a say, negating what was mentioned earlier in helping them feel more empowered. They may even rebel and eat unhealthy meals behind your back.
One way to counter this, is be sure you involve them in meal planning. When grocery shopping, let them pick out their favorite fruits and vegetables. Give them various options for nutritious snacks, such as yogurt or fresh popsicles. You can also ask them what they might want to eat for that day. If the dish feels a little unhealthy, swap out ingredients or cooking methods to lessen fats and sugars. This way, they will enjoy the food more without sacrificing their wellness.
Eat together
Eating together can be beneficial for reinforcing healthy eating habits. A study in the Journal of Pediatrics explains that homecooked meals are generally healthier since you have greater control over the ingredients put into them. Eating together also helps children as it gives them a neutral space to express themselves. This can result in them not having to turn to food for comfort, which will help them develop healthier eating habits.
Make sure to carve out the time to sit down and have a meal together. Consider doing so for dinner during the weekdays and more often on the weekends and holidays.
As a parent, it is important to encourage good eating habits in your kids as early as childhood. Teaching them what healthy eating is, why it is beneficial, and how to practice it can help them become emotionally and physically healthy adults.

For help with any part of parenting be sure to check out my other blog posts.